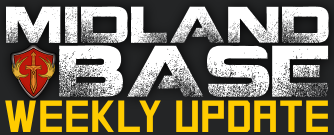 Midland Base Weekly Update February 16, 2015
Howdy howdy howdy! Ec1ip53 here again, barely squeeking the weekly update out past the deadline. What can I say, I predicted it last week! Anywho, here's what happened this week:
343i News
Quick reminder, if you have any feedback for 343 regarding Halo 5, you can use this link to voice your opinion. Remember to be polite!
Halo MCC Content Updates
The latest content update is just more of the same: improves stability, matchmaking, and the party/invite system. It's ALMOST where it needed to be when the game launched. It actually works most of the time now, but when it doesn't you still have to dashboard quit. Bummer, but playable.
Halo MCC Playlist Updates
Team Snipers is in the MCC matchmaking list now! It's a ton of fun, and if you haven't tried it I would suggest the rediculousness that is Halo: CE team snipers. That said, they removed the SWAT playlist for it, which sucks. They also noted that Halo 3 is not in the SWAT or Snipers playlists, and that's because of some problem regarding the default maps in Halo 3 that they hope to fix soon. In the meantime, this guy doesn't mind one bit about the lack of Halo 3!
Bungie News
Destiny Update 1.1.1
According to Deej, the update is just around the corner and Bungie is just putting the finishing touches on it. Still no release date yet, but it's possible it'll launch tomorrow. Change that will come with update 1.1.1 include:
-Matchmaking for weekly Heroic Strikes.
-Weapon Tweeks.
-Heavy Ammo Glitch Fix.
-The Ability to See Reputation in Inventory Screen.
New Bungie Moderators
Bungie has added a group of new mods to their forums. Chances are you'll never know it though, because they never make any kind of posts or anything over there. If you reall yneed to know, check out their news article here.
Midland Base News
Leaders Wanted
We have gotten a lot of help recently from our members in becoming leaders but there is still more to do. Basically, we need some leaders interested in making Halo gamenights. But if you're only interested in Destiny, don't let that stop you from joining up! You can volunteer to be a leader here and we'll use your help to continue to grow and become the best group of Halo/Destiny gamers ever!
Midland Base Clan - Destiny
You should all know this by now, but it bears repeating for our new members who found their way here. To participate in Midland Base events for Destiny, you need to be apart of our clan. It is super easy to join up and Dredd has all the steps laid out nice and easy for you here. Make sure you join up so we can all enjoy Destiny together.
Raiding
Make sure to watch our forums to participate in officially lead Midland Base raids. All leaders at this point who are doing them have completed the Vault, and many are qualified to lead a Crota's End run. Make sure to sign up early to secure your spot and riches!
Also, we like the idea of having ribbons for people who have completed the raids as well as helping others complete the raids, but lack the artistic ability to creat said ribbons. If you have some free time, artistic ability, and the desire to leave a lasting impression on Midland Base, please post some ideas for ribbons! The dimensions at 79x21 pixels.
Fresh Meat
Please welcome out newest Midland Base members Cpl Atwill and Mysterion7514! But who is Mysterion? Seriously though, hope to see you both online soon and we can get some games in!
Game Day/Night Attendance
Friday Game Night hosted by Ec1ip53:
Ec1ip53, Chipk77, and FunkyChickenLvr.
Saturday Game Day hosted by Poetepoet:
Poetepoet, Receptor 17, Covsmasher, Wetz689, Animemanicfan, and Ninjaketsu.
Saturday Game Night hosted by Chipk77 Canceled:
None.
Sunday Game Night hosted by AnimeManicFan:
AnimeManicFan.
Sunday Game Night hosted by ChickenMnkyDuck Guest Host Chipk77:
Chipk77.
Here it is, your moment of Zen...
Until next time. Discuss here.
-Ec1ip53