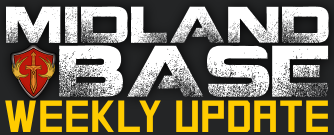 Midland Base Weekly Update April 13, 2015
Hey Midland Base, both old and new! Hit the ground running this week by catching up with last week's ongoings.
343i News
Quick reminder, if you have any feedback for 343 regarding Halo 5, you can use this link to voice your opinion. Remember to be polite!
Hunt the Truth
With little info coming out from Halo this week, all I have to say is remember to check out their HUNT THE TRUTH audio files. Their up to episode 3, which makes 4 episodes since there is an episode 0.
Bungie News
Update 1.1.2
Three weeks ago, Bungie revealed the updates that they have planned for Update 1.1.2. To refresh your memory, they include the following:
-More Vault Space.
-Raid Fixes.
-Different Audio and Visual cues.
-Changes to ammo in PvP.
-Strike completion.
This week they expanded upong the changes in ammo in PvP. Special ammo will give less ammo and spawn less often. Both special and heavy ammo will have a despawn timer once it hits the ground. That way, people can't get heavy ammo to drop for them, but wait until a different point in the game to actually use it.
House of Wolves
We finally have the release date of the next Destiny DLC: May 19, 2015.
The release date is May 19, 2015.
Midland Base News
Leaders Wanted
We have gotten a lot of help recently from our members in becoming leaders but there is still more to do. Basically, we need some leaders interested in making Halo gamenights. But if you're only interested in Destiny, don't let that stop you from joining up! You can volunteer to be a leader here and we'll use your help to continue to grow and become the best group of Halo/Destiny gamers ever!
Midland Base Clan - Destiny
You should all know this by now, but it bears repeating for our new members who found their way here. To participate in Midland Base events for Destiny, you need to be apart of our clan. It is super easy to join up and Dredd has all the steps laid out nice and easy for you here. Make sure you join up so we can all enjoy Destiny together.
Raiding
Make sure to watch our forums to participate in officially lead Midland Base raids. All leaders at this point who are doing them have completed the Vault, and many are qualified to lead a Crota's End run. Make sure to sign up early to secure your spot and riches!
Fresh Meat
We have two new members this week. Everybody please welcome K y l e 023 and EMB Vane when you see them. Welcome, guys!
Game Day/Night Attendance
Friday Game Night hosted by Ec1ip53:
Ec1ip53, Major Stick, Chipk77, FunkyChickenLvr, your_unequal, and DeathM6.
Saturday Game Day hosted by Poetepoet:
Poetepoet, AnimeManicFan, and Rogerdodger777.
Saturday Game Night hosted by Chipk77:
Chipk77, Dredd1973, NinJakeTsu, Smeeeoker, AnimeManicFan, Gatlin McArthur, your_unequal, and Itskilleryo.
Sunday Game Night hosted by AnimeManicFan:
AnimeManicFan, Silient Hit86, your_unequal, Ninjaketsu, and Receptor 17.
Here it is, your moment of Zen.
Until next time. Discuss here.
-Ec1ip53