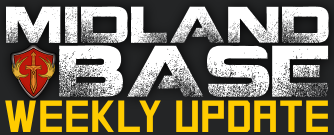 Midland Base Weekly Update August 18, 2014
Despite both Bungie and 343 Industries not putting out an update there is still much to talk about. Both of them making their presence known at the Gamescom in Germany. We have remade maps, Mars, competitive multiplayer modes, and even a whole channel dedicated to Halo. I am in geek heaven this week folks and there is plenty of room for you all here. So sit back, grab a drink, pop some popcorn and away we go!
343i News
No Halo Bulletin for us this week but that didn't stop them from showcasing a new old map from Halo 2 and announcing Halo Channel. It's like Halo Waypoint only better.
Halo Channel
Halo Channel was announced for Xbox One. Yet another reason to go out and get an Xbox One. Halo Channel looks like Halo Waypoint on steroids. This will be your one stop shop for all thinks Halo from behind the scenes look at 343i as well as Halo games and Tv series.
Gorgeous, just gorgeous.
Bungie News
Competitive Multiplayer
Bungie released the Official Destiny Competitive Multiplayer Trailer this week with some awesome gameplay of their PvP matches. They also showcased the different game types that will come with the game.
Combined Arms
All-out team warfare with vehicles. Destroy the enemy.
Control
Capture Zones to increase points for every kill.
Iron Banner
Power Matters. Earn epic rewards & gear.
More than enough enough to keep me satisfied for a long time to come that combined with story mode, strikes, and raids I will find it very hard to put my controller down. 22 days and counting...
Mars Attacks!
On top of releasing the Competitive Multiplayer trailer, Bungie released the Mars trailer. Some people felt they would like to see more but how much footage can they release without giving away one too many secrets.
Midland Base News
Leaders Wanted
With Destiny less then a month away we are in need of leaders. We will be fully supporting Destiny and will continue to support Halo. However with the limited number of leaders we have now the choices for what games will be played during Game Night might change and go by the way side. It is up to the leaders to decide in which game they will play. So if you want to make sure the game you want to play gets the attention you think it deserves or if you just want to help make sure this group stays as awesome as it is, please volunteer here. Make sure you give the responsibilities a good read to make sure it is something you will be able to do.
Grifball
The Grifball team is still very much alive and it is more fun then ever. It is a lot more fun to go into matchmaking having a team that is all talking to each other and having a good time. We need your help though. The more people who join us, the more fun we can have. If you feel like smashing some peoples heads in with a Gravity Hammer or Would like the opportunity to craft you skill as the Grif, running the ball in and scoring the "touchdown" as it were then join up. If you are terrible at Grifball but want to enjoy playing on a team (like me) I assure you skill means nothing to us, just that you have a fun time, please join us. We still meet every Friday and you can join in Friday game night right after. And you still get some bling for being on the team. If you are interested then sign up here. Two practices a month nets you the sweet medal.
Midland Base Clan
There is still plenty of time to sign up in our Bungie.net clan. We have room for all of you there. This will be the way we do official Destiny game nights with both Crucible and Raids. To sign up and get help check out this thread and make sure you sign up before September 9th. (note: you can sign up after September 9th but you will not be able to play in official Destiny game nights without being in our clan). If you sign up before 9/9/14 and you played in the beta you can get this sweet bling for your war chest.
Member Spotlight
Your member of the week is Ec1ip53! He does a lot of work making sure you all enjoy your stay here at Midland Base. He is your number 2 in command and while Dredd is on vacation he leads in his stead. Ec1ip53 we appreciate everything you do for us and congrats. Make sure to mosey on over to his wall and leave him your thanks too.
Fresh Meat
Some great new faces here at Midland Base and they all hit the ground running. Welcome Go Homer Die, OUTLAWs BOUNTY, and yourdaddy0314. We look forward to getting to know you all better.
Feature Forum
This week's featured forum is Funny Picture Thread. Seen a funny picture that made you laugh that you just got to share with us? Having a down day and need a pick-me-up? Or just want to have a good laugh. Head on over there and let the laughs roll. For a little taste of what's in there check out this week's moment of zen.
Game Day/Night Attendance
Friday Game Night hosted by Ec1ip53:
Ec1ip53, Chipk77, Silient Hit86, BattleBug85, Mongo 50, Outlaws Bounty, TurboDew, Shocking Results, and YourDaddy0314.
Saturday Game Day hosted by Poetepoet:
Poetepoet and AnimeManicFan.
Saturday Game Night hosted by Chipk77:
Chipk77, I Use Precison, ChickenMnkyDuck, Outlaws Bounty, Wetz689, Itz A Boomerx, and Shocking Results.
Sunday Game Day hosted by Silient Hit86:
Silient Hit86, AnimeManicFan, Shocking Results, CovSmasher, Outlaws Bounty, and Receptor 17.
Caption Contest Winner Week #169: Woutertubie!
Screen Shot by Crazy343
Want to see your screenshot focused in an upcoming caption Contest? Be sure to submit it in the Screenshot thread. Also, stop by to vote on week 170 and leave a caption for week 171.
Here it is, your moment of Zen...
Another week closer to Destiny my friends. Be Brave. Soon we will be zipping across the Solar System together.
Don't forget to head over to the discussion page to leave your comments about this weeks news and to vote in the poll. If you have anything you would like to see or anything I can do to improve the update let me know. Until next week.
-TurboDew