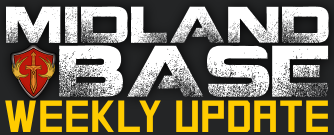 Hey everybody,
Ec1ip53 here, on the back end of when the weekly update can come out but I've been busy! Anyways, let's get to the meat and potatoes (the good stuff).
This week you'll find:
Halo News
Comic Con San Diego

Big Team Battle SWAT

Halo Car in Forza

Screenshot Spotlights
Destiny News
Alphas and Betas….oh my

Official Game Play trailer

Alpha links to TwitchTV
Midland Base News
Leaders wanted

Game Night attendance

New members
Halo News
Some stuff is right around the corner! So here goes:
Comic Con San Diego
The first look of Halo: Nightfall will be teased at Comic Con San Diego this weekend, as well as an overall Master Chief Collection panel. What goodies lie in wait for us? We'll just have to wait and see! Less than a week away!
Big Team Battle SWAT
The newest playlist in the Halo 4 rotation is Big Team Battle SWAT, and I couldn't be more excited, personally. Last time it was in was the last time I got a perfection. Who's ready to do this sucker?
Halo Car in Forza
It looks like there is a new Forza car in town with a Halo 5 skin! The description was a little ambiguous, so if anybody has any additional details (as I don't play Forza), please feel free to enlighten us!
Screenshot Spotlight: Quarterback
Winning screenshots featured Spartans throwing a ball in oddball or richochet. To me, it seemed like they didn't really try this week, as two different users got THREE winning screenshots each. The hell? Anyways, for a chance to get your screenshot featured next week, take screenshots of one of the most underwhelming weapons in Halo 4: the Suppressor.
Destiny News
2 days away from the Destiny Beta! I hope you're ready...
Beta
The level cap for the beta will be level 8. Also, keep in mind that for the Playstation, day 1 of the beta was primarily stuck on sorting out code and download issues, so just keep that in mind. If it ends up not being a problem for you, great!
Midland Base News
Leaders wanted
As I stated last week, the leaders of Midland Base have recently learned that Spacey Rose will unfortunately have to step down from her leadership role as of the start of August. This means that THERE WILL BE NO SATURDAY GAMENIGHT UNLESS WE CAN START GETTING SOME NEW LEADERS. So check use out if you're interested. We need new blood, or else Midland Base's events will start shutting down.
Game Night attendance
Friday Gamenight 7-18-14 Hosted by Ec1ip53
Ec1ip53, Chipk77, Lenfest, B1o6, Silient Hit86, and Mongo 50.
Saturday Classic 7-19-14 Hosted by BattleBug85
BattleBug85, ArtofRuin, Silient Hit86, AnimeManicFan, CovSmasher, B1o6, and Itz a xboomerx.
Saturday Gamenight 7-19-14 Hosted by SpaceyRose
SpaceyRose, ArtofRuin27, Chipk77, Zzamorac, and B1o6.
Sunday Classic 7-20-14 Hosted by Silient Hit86
Silient Hit86, ArtofRuin27, TurboDew, Poetepoet, B1o6, and Dredd1973.
New members
Welcome StormQuakeHydra, Halorecon714, and JAB993!
Note: this transmission will self destruct in 3... 2... 1... discuss -