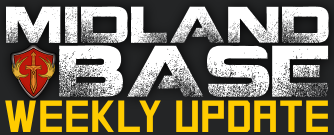 Midland Base Weekly Update January 26, 2015
Hey everybody, lets get this week started right! Here's a quick recap of last week so you don't have to worry about missing anything.
343i News
Quick reminder, if you have any feedback for 343 regarding Halo 5, you can use this link to voice your opinion. Remember to be polite!
Halo Championship Series
They talk about the Halo Championship Series here, but it all goes right over my head so if you're interested in it click the link!
Halo: Escalation #14
The newest Halo comic drops in just two days! For those who haven't been keeping up with it, the story is now getting into what Halsey is doing with the elites. Exciting times!
Bungie News
Crota's End - First Hard Mode Completion
The world's first completion of Crota's End hard raid was accomplished by a group called "One and Done." They completed it 11 minutes faster than it takes my laundry to complete a cycle. For those of you unfamiliar with my laundry routine, they completed it in 27 minutes. I don't know about you guys, but I'm super Jelly.
Doubles Skirmish
A new Cruicible playlist has come out called Doubles Skirmish. It's 2v2 game where you kill others and revive teammates. You know, for when you have two players but done want to play PvE. /sarcasm
A Numbers Game
We were given some interesting numbers regarding Xur's stay in the tower the weekend before last. He collected 19,436,440 strange coins, which is equal to 2,159,604 level 30 Weekly Heroic Strikes. He sold 1,143,320 Icebreakers
Midland Base News
Leaders Wanted
We have gotten a lot of help recently from our members in becoming leaders but there is still more to do. While the MCC still isn't up to full working order yet, the Halo 5 beta gives it another two weeks before I'm interested in it again anyways. Basically, we need some leaders interested in making Halo gamenights. You can volunteer to be a leader here and we'll use your help to continue to grow and become the best group of Halo/Destiny gamers ever!
Midland Base Clan - Destiny
You should all know this by now, but it bears repeating for our new members who found their way here. To participate in Midland Base events for Destiny, you need to be apart of our clan. It is super easy to join up and Dredd has all the steps laid out nice and easy for you here. Make sure you join up so we can all enjoy Destiny together.
Raiding
Make sure to watch our forums to participate in officially lead Midland Base raids. All leaders at this point who are doing them have completed the Vault, and many are qualified to lead a Crota's End run. Make sure to sign up early to secure your spot and your riches that await.
Also, we like the idea of having ribbons for people who have completed the raids as well as helping others complete the raids, but lack the artistic ability to creat said ribbons. If you have some free time, artistic ability, and the desire to leave a lasting impression on Midland Base, please post some ideas for ribbons! The dimensions at 79x21 pixels.
Group Battle - Epsilon Fleet
Our group battle with Epsilon Fleet is taking place this Friday at 8:30pm central. While we have a full roster of people ready to play, please sign up if you feel you could be an alternate. It's super helpful! Also, we'll end up going strait to gamenight with them afterword, provided that all goes well in the actual game. So sign up here!
Fresh Meat
No new members to Midland Base this week. That just means that next week we need to get extra welcoming for the new members!
Game Day/Night Attendance
Friday Game Night hosted by Ec1ip53:
Ec1ip53, Itskilleryo, FunkyChickenLvr, and GatlingMcArthur.
Saturday Game Day hosted by Poetepoet Guest Hosted by AnimeManicFan:
AnimeManicFan, Covsmasher, and Ec1ip53.
Saturday Game Night hosted by Chipk77:
Chipk77, AnimeMagicFan, ChickenMnkyDuck, DeathM6, Dredd1973, and your unequal.
Sunday Game Night hosted by AnimeManicFan:
AnimeManicFan, Dredd1973, Ec1ip53, Poetepoet, ShickingResults, and Ignist451.
Sunday Game Night hosted by ChickenMnkyDuck:
ChickenMnkyDuck, Funkychickenlvr, Wetz, Ninjaketsu, DeathM6, and Deankong.
Here it is, your moment of Zen...
Until next time. Discuss here.
-Ec1ip53