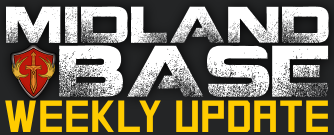 Midland Base Weekly Update Sepember 29, 2014
Hello, Holla, Bienvenue! Welcome to another Weekly Update by yours truly. This week we dive into some hot fixes, loot drop changes, comics, screenshots and we even see some of our own take the treasures from the Vault of Glass! We have a lot to discuss so lets get discussing!
343i News
Halo: Master Chief Collection is less then a month away and rest assured we will be fully supporting the game. 343 also released the next in a long series of comics with Halo: Escalation #10 and Receptor, master of screenshots, is featured yet again. He really should be offered a job at 343i as their official screenshot taker.
Halo Bulletin
So Halo: MCC is drawing ever nearer and I assure you we will be here to fulfill your nostalgia with like minded gamers playing along side of you. I don't know who will be leading a game night featuring MCC but if you want to make absolutely sure we have at least one game night you can always volunteer to be the host. Check below for more details in how to help. With the eminent release just around the corner 343i has decided to do a little Q&A about plot details behind some Halo mysteries. All I could think about when reading them was the theme song to Mystery Science Theater 3000 (MST3K) "If you're wondering how he eats and breathes an other science facts. Then repeat to yourself, 'It's just a show, I should really just relax…'"
To read the Q&A make sure to head over to the bulletin and see if their answers fit your curiosity to the unresolved events of the Halo universe.
As I promised here are the latest in the great Receptor 17 screenshots portfolio, to download it just click on the photos and you will have the full screenshots worthy of any desktop background.
Filligreed Shadow
A Noble Weapon
Vibrant Rifle
Halo: Escalation #10
I really wish I had the cash to be getting these comics to give you by full opinion of the comics but from what I can see they look very well done. As I understand it though, if you are a fan of Halo Universe canon, these are a must have. He are the pages 1, 2, 3, 4, 5, and 6 for you to see if you are interested. I am not posting the pages in case you don't want to ruin the story until you get your hands on the series and read it then.
Bungie News
Patch Notes 1.0.1.4, 1.0.2 and Hot Fixes
As Bungie has stated several times Destiny is never finished. As they see issues good or bad they will make changes. Sometimes scheduled (patches) and sometimes on the fly (hot fixes). Sometimes this works in our benefit as in the future of engrams and sometimes to hinder our farming abilities (as in no more Ascendent Shards from Queen's Bounty Legendary Gear). Now farming for engrams and/or glimmer using in game means (those available to all using in game methods) is not against Bungie's or our rules but that does not mean when the exploits are found Bungie has to let it slide. Their answer, increase wait times for enemy respawn times, change majors and ultras to regular enemies, and decrease drop rates for glimmer and engrams after death during missions. As much as I hate to see my quickly leveling Hunter take longer to get items I need I understand why they do it. If you level too quickly, long term there is no reason to keep playing when you have everything and need nothing.
In patch 1.0.1.4 they reduced the difficulty of a few heroic missions and changed some in game issues to the Vault of Glass.
In the Hot Fix (9/25/14) they reduced the exploitations of in game rewards. Some of the "Treasure Caves" have increase wait times to enemy spawn points and took away the Ascendent Shards that would be given for dismantling Queen's Bounty gear. The Queen's gear was meant for helping those without legendary gear to get said gear in prep for the Vault of Glass not to help those of us with gear already to quickly level ourselves to max level. As much as I hated to see it go, once again I understand why.
In patch 1.0.2 we are going to see the Bungie trolling fade away. Most of us were ecstatic when we got our first legendary engram only to see our dreams crushed when we went to the Cryptographer and got an uncommon piece of loot, "WTF? Where's my legendary loot?' we would say. No longer. Now when you get an engram, you will receive that tier of loot or better. If you get a rare engram, you will receive a rare item or legendary, no uncommon. When you get a legendary engram you will get a legendary piece or exotic, no rare or uncommon. Getting legendary engrams is hard enough without Bungie trolling us, so this is a very welcome change. So I know what you are thinking "I will just hold onto my legendary engrams from now until then." Don't. When the patch is released all legendary engrams will revert to rare because, and I quote, "We all know they were blues already…"
Developers Notes
Bungie is also making other changes in the game some more slowly. Some fixes take time. They are constantly taking our feedback and trying to make Destiny the game we all want to play. Sometimes what sounds great in theory doesn't pan out in application so they will keep making changes as they see fit to make Destiny exciting. Some changes we can expect to see is more fanfare in letting you know when rewards happen, voice communication with those in your matches and strike that might not be in your party, and the ever growing problem of weapon balance. There is a lot of planned changes so if you want the full details head over to Bungie and read for yourself. Some things are really exciting and I can't wait until they are implemented.
Queen's Wrath
The Queen's Wrath bounties and missions are in full swing. Even though we can not get Ascendent materials, this is still worth doing to get shaders, emblems, class rewards, reputation, rare weapons, and legendary gear for your other guardians. If you are struggling with getting through the missions and need help there are plenty of us high level members that are willing to help. If you see me on and are on the xbox 360 I will definitely help. The best part of being in our group is that fact there are so many willing to help out.
Bungie Weekly Update
Another milestone was hit in Destiny this week, Vault of Glass on heroic was beaten. And from what I hear the main big difference from normal and heroic is no reviving teammates. From those of you lucky enough to play the VoG already you must know this really adds a degree of difficulty. Bungie interviewed the team who beat it and you can read the interview here. We too have made our own milestone with the first all Midland Base team finishing the VoG on normal but more on that latter in the update.
Destiny OST was released for a mere $9.99 on iTunes. For those of you who know me we'll, you know the best part of games for me is the music that sets the mood in game. I will sometimes find a deep dark cave where I can safely enjoy the music before setting off to finish the mission. I can now enjoy the music from the safety of my iPhone while driving around town and you can too.
Iron Banner starts next week. This Crucible game type is not for the faint of heart. Unlike the regular Crucible wear everything is scaled so a level 5 and level 30 have the same chance of winning for the most part, the Iron Banner will not. So if you have worked hard to upgrade you legendary gear to the max and show others how hard you worked this is the game type for you. But be warned, other people have been working hard too…
Mail Sack
There are a lot of questions answered this week but I want to share one here that has been a topic of concern here:
Q: Can you be banned for farming?
A: Well of course not! We didn't ban anyone for staring longingly into the Holy Cave – or for shooting into it for hours on end. The last safe City on Earth needs more hunters than farmers, though, so we'll do what we can to inspire you to complete missions of variable difficulty under new, challenging circumstances.
Midland Base News
Leaders Wanted
With our group now participating in Vault of Glass and game nights in both Halo and Destiny we need your help more than ever. We haven't even seen the launch of Halo: MCC yet. What can you do to help? Volunteer to be a leader here and we'll use your help to continue to grow and become the best group of Halo/Destiny gamers ever!
Midland Base Clan
There are now several game nights in both Xbox One and 360 dedicated to Destiny but to participate you need to be apart of our clan. It is super easy to join up and Dredd has all the steps laid out nice and easy for you here. Make sure you join up so we can all enjoy Destiny together.
Vault of Glass
We had our first Midland Base group complete the Vault of Glass. These 6 + 1 intrepid gamers brave the Vex to claim their rewards and we're not done yet, not by a long shot. The first 6 to complete it were Ec1ip53 (Fireteam Leader), Silient Hit86, ChickenMnkyDuck, NinJakeTsu, FunkyChickenLvr, and AnimeManicFan with Outlaws Bounty providing support when another member was having a couple of internet issues (way to help the team Outlaw). Congrats to you all! I will try to get an interview together for next week's Update so you can see their prospective as they worked together to beat those Vex into a pulp. I will also be featuring any and all Midland Base fireteam's that continue to show their gaming prowess against the VoG. Ec1ip53's Warpigs (the new name for Ec1ip53's fireteam) took 10 hours and 44 min to complete the Vault but expect this week they will improve on that time (I know you can do it).
If you want your shot at the Vault make sure to watch for official sign ups in the forums. They fill up fast so keep an eye out. I myself will be leading a team on the xbox and will be waiting for you to join me.
Also we will be giving away a ribbon to be designed soon to show others you completed the Vault and were willing to pass that knowledge on to others so they could claim their rewards too. How do you get this highly coveted reward? Just make sure after you complete your own first run in VoG to pay it forward. To get all the details check out the reward ribbon thread.
Fresh Meat
As Destiny grows so do we. He are some more fresh faces here at Midland Base, make sure to give them a big Squeaky Sheep welcome: IIIDefalt, Blofu, BoboGro, Broken Squeaker, and The Squirells.
Game Day/Night Attendance
Thursday Game Night hosted by Ec1ip53:
Ec1ip53, Silient Hit86, FunkyChickenLvr, ChickenMnkyDuck, NinJakeTsu, and AnimeManicFan
Friday Game Night hosted by Ec1ip53:
Ec1ip53, NinJakeTsu, Velarage, Chipk77, Dredd1973, Wetz689, and Outlaws Bounty.
Saturday Game Day hosted by Poetepoet:
Poetepoet, AnimeManicFan, CovSmasher, and Silient Hit86.
Saturday Game Night hosted by Chipk77:
Chipk77, ChickenMnkyDuck, Dredd1973, Outlaws Bounty, Velarage, and Wetz689.
Sunday Game Night hosted by Lenfest:
Lenfest, TurboDew, Poetepoet, and Itskilleryo.
Caption Contest Winner Week #175: ChickenMnkyDuck!
Screen Shot by ShockingResults
Want to see your screenshot focused in an upcoming caption Contest? Be sure to submit it in the Screenshot thread. Also, stop by to vote on week 176 and leave a caption for week 177.
Here it is, your moment of Zen...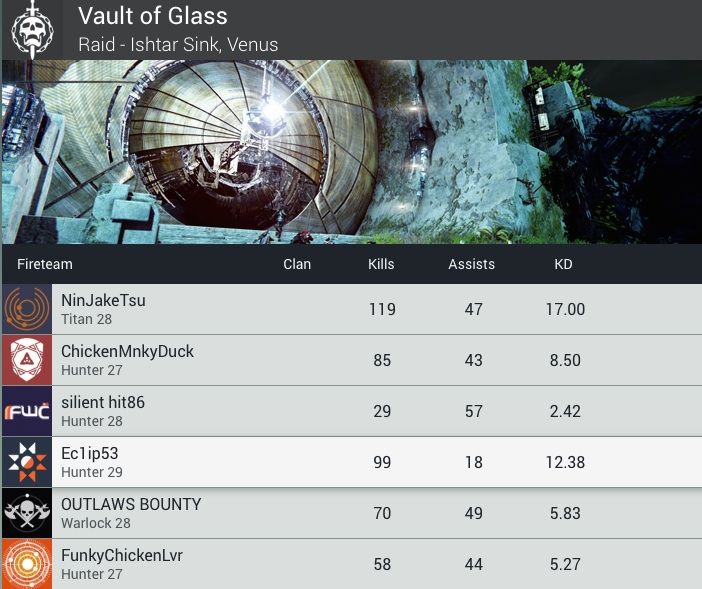 And that is that my friends. I will miss you until next week. Be sure to find me in Destiny and feel free to join up. 98% of the time I am doing nothing else important. Be sure to hit up the discussion page. Please let me know what you think, be honest, it is the only way I can make these better.