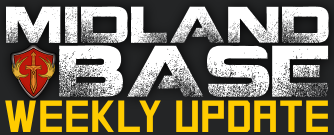 Midland Base Weekly Update March 23, 2015
Insert obligtory small talk here.
343i News
Quick reminder, if you have any feedback for 343 regarding Halo 5, you can use this link to voice your opinion. Remember to be polite!
Hunt the Truth
If you haven't checked it out yet, look up Halo's Hunt the Truth project they're working on to get peopel excited for Halo 5. It's a collection of audiologs that gets updated every Sunday. However, there isn't much information yet, since it's just the first week and there is only one log so far. Check it out here!
Bungie News
Update 1.1.2
Last week, Bungie revealed the updates that they have planned for Update 1.1.2. To refresh your memory, they include the following:
-More Vault Space.
-Raid Fixes.
-Different Audio and Visual cues.
-Changes to ammo in PvP.
-Strike completion.
This week they expanded upong the changes they plan on making to audio and visual cues.
-Audio: they're adding the ability for you to mix the chat, special effects, and music. Sounds perfect to me, as I usually like special effects to be lower than the music, and the music to be lower than the chat/voices.
-Video: They're adding different modes to help color blind players out. They actually have a pretty cool simulation of what color blind players see and how their updates will change that. Check it out here.
Midland Base News
Leaders Wanted
We have gotten a lot of help recently from our members in becoming leaders but there is still more to do. Basically, we need some leaders interested in making Halo gamenights. But if you're only interested in Destiny, don't let that stop you from joining up! You can volunteer to be a leader here and we'll use your help to continue to grow and become the best group of Halo/Destiny gamers ever!
Midland Base Clan - Destiny
You should all know this by now, but it bears repeating for our new members who found their way here. To participate in Midland Base events for Destiny, you need to be apart of our clan. It is super easy to join up and Dredd has all the steps laid out nice and easy for you here. Make sure you join up so we can all enjoy Destiny together.
Raiding
Make sure to watch our forums to participate in officially lead Midland Base raids. All leaders at this point who are doing them have completed the Vault, and many are qualified to lead a Crota's End run. Make sure to sign up early to secure your spot and riches! We already have one VoG and one CE raid set up for this week, but keep your eyes out for more!
Fresh Meat
Look at the new members and laugh (just kidding new members, "laugh" is code for welcome warmly)! Everybody say hi to gamer7364 and APlasticSlinky! Hope to catch you guys in game soon.
Game Day/Night Attendance
Friday Game Night hosted by Ec1ip53:
Ec1ip53, Chipk77, and Your_Unequal.
Saturday Game Day hosted by Poetepoet:
Poetepoet, Dredd1973, AnimeManicFan, and CovSmasher.
Saturday Game Night hosted by Chipk77:
Chipk77, Dredd1973, Inskilleryo, Ninjaketsu, AnimeManicFan, and ShockingResults.
Sunday Game Night hosted by AnimeManicFan:
AnimeManicFan, Receptor 17, Dredd1973, Ec1ip53, and Ignis451.
Here it is, your moment of Zen.
Until next time. Discuss here.
-Ec1ip53