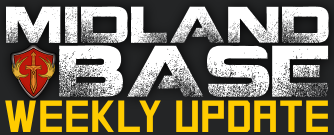 Midland Base Weekly Update December 15, 2014
Hello everyone. Welcome to your next weekly update.
While the video is not playing well on my computer rite now I did get to watch some of it. This weeks bulletin talks about updates to the MCC, the Halo 5 beta and the recent Halo championship.
This weeks Bungie update talks about The Dark Below. We are introduced to the voice behind our new best friend in the tower and we get an interview with the leader of the first fire team to complete the new raid. Bungie also confirms that the new strike will continue to be included in the weekly and nightfall rotation but the old strikes will be used as well. The new weekly strike starting tomorrow will be one of the strikes available at game launch.
Whether you are new or have been here since the beginning most of us have come to call Midland Base are home. We fight together, we raid together, we laugh together. The biggest reason this group is the way it is, is having members like you step up and help lead us. We still have lots of things to help out with and are looking for members to help. If you are interested in making sure we stay awesome here, look to the volunteer thread
here
. We look forward to you joining us in the Head Shed.
There are now several game nights in both Xbox One and 360 dedicated to Destiny but to participate you need to be apart of our clan.
It is super easy to join up and Dredd has all the steps laid out nice and easy for you here.
M
ake sure you join up so we can all enjoy Destiny together.
As the 360 leader I am planning of hosting hard raids through the VoG now that more of our members have reached level 30 thanks to the new content.
Many of our leaders are now hosting raids on Crota's End. If you are interested in taking part signups are available in the Destiny part-up forum. For those of you on the 360 I am planning on giving this raid another try as soon as we can all get together again. We had one good run with no prior knowledge of the raid and got to the gatekeepers. For those of you trying this raid I recommend coming prepared to be swarmed by never ending waves of every hive you can think of. It wouldn't hurt to check out this weeks Bungie update either since they interviewed the leader of the first team to complete the raid.
Here it is, your moment of Zen...
-Lenfest