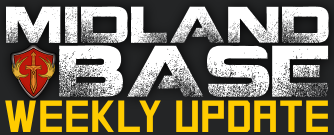 Midland Base Weekly Update September 15th, 2014
Going to be a short update this week. Most folks are already playing Destiny already whether on Xbox 360 or Xbox One. There are a couple things to go over in Destiny and Midland Base but no new news from 343i this week. So let us begin.
343i - Halo News
Nothing new this week. Stay tuned next week for some news about Halo stuff hopefully.
Bungie News
Not much from Bungie this week either but it was launch time so it was to be expected. I hope you all are enjoying the game as much as I am. I have a level 26 Hunter with 3 Legendary armor pieces and one Legendary weapon. If you see me on feel free to just join up without invitation. Also there wasn't much significant news in the Bungie Update but you can find it here none the less.
Update 1.0.1 Patch
Right off the bat Bungie had an update ready to go before you could play. A lot of the changes made were to make the game play more even. Some of the feedback they got from the beta was implemented. For full list check out the official post.
Destiny Events
Some of you may notice that not everything is unlocked yet. This will change very soon. The "Vault of Glass" raid will be available to those with the item level to do it. The raid is a level 26 raid so if you stand any chance of doing half way decent job you should be level24 or higher. Here is the list of events unlocking over the next while.
Remember you will need to grab your own team for the raid as there is no matchmaking for this playlist but rewards are supposed to be amazing. I can't wait for Queen's wrath, I really hope that means we get to check out the reef some more.
Midland Base News
Leaders Wanted
Destiny is finally here and we need your help to make sure it feels welcome here and Halo doesn't feel like we are leaving them for someone younger, its not like that Halo, we promise. We need leaders more now more then ever to help keep this group great. Are you willing to help us keep this group fun? Sign up here and get started. Make sure to read the requirements before committing to the awesomeness.
Member Spotlight
Are featured member this week is none other than ChickenMnkyDuck. Duck as she is affectionately called, is a close personal friend of mine and is 1/2 the reason I joined Midland Base in the first place (the other half being her husband FunkyChickenLvr). If you have not played with her yet you are really missing out. So jump onto Destiny on Xbox One and join her, tell her TurboDew sent you. Congrats Duck!
Grifball
Grifball is officially on hold right now. We hope that it will be back up later and that it is not lost forever. But we will have to play it by ear. Also to the members who were in grifball, be aware, without a team there is no need for medals so grifball members will be without until it starts back up again.
Midland Base Clan
We have a clan at Bungie and need you to go and sign up for it. It's a very easy process and will show all those other clans you are proud to be a Midland Base member. To find out how to join, check out the official thread. Make sure to do it sooner rather than latter, no one likes a procrastinator.
Fresh Meat
Please give a warm Midland base welcome to DrkMage 01, ryderblind1199, and Zealfire.
Featured Forum
So I again feature the entirety of Destiny thread. With the game freshly out of the box, make sure you head here to let us know your opinions of the game.
Changes to Game Days
Make sure to check out our event calendar to see all the changes. Since Destiny dropped, we are getting a new night (or rather an old night revitalized) and some game days that were Halo may now be in Destiny. Also make note as to which console it will be played on. Don't see your console supported? Join the leadership and start hosting! We are waiting for you.
Game Day/Night Attendance
Thursday Game Night hosted by Dredd1973:
Dredd1973, Receptor17, Velarage, Go Homer Die, Ec1ip53, Outlaws Bounty, ChickenMnkyDuck, and chipk77
Friday Game Night hosted by Ec1ip53:
Ec1ip53, ChickenMnkyDuck, NinJakeTsu, Chipk77, ShockingResults, Outlaws Bounty, Dredd1973, Velarage, Silient Hit86, Wetz689, I Gamzu I, and FunkychicnenLvr.
Saturday Game Day hosted by Poetepoet:
Poetepoet, Receptor 17, CovSmasher, AnimeManicFan, Outlaws Bounty, Ec1ip53, and Silent Hit86; with guest appearance by FunkyChichenlvr and ChickenMnkyDuck.
Saturday Game Night hosted by Chipk77:
Chipk77, ChickenMnkyDuck, FunkyChickenLvr, NinJakeTSu, Outlaws bounty, Ec1ip53, and SickRainb0.
Sunday Game Day hosted by Ec1ip53:
Ec1ip53, ChickenMnyDuck, and AnimeManicFan.
Caption Contest Winner Week #173: Dredd1973!
Screenshot by Major Stick.
Want to see your screenshot focused on in an upcoming caption contest? Be sure to submit a screenshot here. Also, stop by to vote on week 174 and leave a caption for week 175.
That is all this week. Now go out and save our solar system guardians, but be sure to hit up the discussion thread first.
-TurboDew