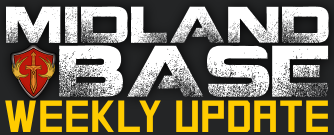 Midland Base Weekly Update November 10, 2014
Hello my friends, it is great to be back. Thanks to Ec1ip53 for covering last week's update. It was my 5 year anniversary with my lovely wife and we had a great time with the power being out across half the town for a little under 20 hours. But we had candles and made it a little bit more cozy. This week is a great week for you Halo lovers, Halo: Master Chief Collection is released for all to enjoy. Bungie has slated a lot of changes that are cueing up for release. And Midland Base has a new probationary leader in our ranks.
Before we get into Halo and Destiny news it is important to remember that tomorrow isn't just the release for Halo: MCC but a day to honor our veterans. We have more then a few of our members who served in the armed services and we appreciate your hard work so that we can enjoy the precious freedoms we have today.
And now a little history behind the day.
Veterans day started off as a day called Armistice Day and was to commemorate those who served in WWI called at the time "The Great War" and the "war to end all wars." Although the Treaty of Versailles was signed on June 28, 1919 it was on November 11th, 1918 when an armistice was called (temporary cessation of hostilities). In November 1919 President Wilson called for the observance of the commemoration of Armistice Day.
"To us in America, the reflections of Armistice Say will be filled with solemn pride in the heroism of those who died in the country's service and with gratitude for the victory, both because of the thing from which it has freed us and because of the opportunity it has given America to show her sympathy with peace and justice in the councils of the nations..." -President Woodrow Wilson
In 1954 congress changed Armistice Day into Veterans day to honor American veterans of all wars.
So to all the veterans out there I send my deepest gratitude for all you have done. Thank you.
For more info on the founding of Veterans Day please head
here
.
With the release of Halo: MCC just hours away there are a lot of folks excited to get back to the roots of Halo. I remember waiting in line at Target at midnight on November 9th, 2004, the long drive home, playing campaign until the rising sun. The best part was playing the multiplayer online. Halo 2 revolutionized online gaming for consoles, things that are core features for Xbox Live even today. So if you are looking to play Halo 2 online for the first time or are a seasoned veteran like me, this promises to be some classic Halo the likes we haven't seen it a decade.
One of the best experiences of Halo 2 was finding the hidden skulls. Most were found on Legendary but one you could get on any difficulty was the blind skull. Well you won't have to go searching every inch of the map to play with the skulls, they have them unlocked and ready to go. There are 37 skulls in total, some new, some old. A couple of the skulls are pre-load exclusive until December 12th, then all skulls will be available to use. I am not going to name them all here but I will highlight a few that are fun. You can check out the rest
here
.
• Bandanna – Infinite Ammo. (Halo: CE Anniversary)
• Bonded Pair – Co-op skull: When one player dies, the other player gets a large damage boost that lasts a while. (Halo 2: Anniversary)
• Eye Patch – Auto aim features disabled for all weapons. You'll miss it when it's gone. (Halo: CE Anniversary, Halo 2: Anniversary)
• Foreign – Covenant weapons: How do they work? Players cannot pick up or use Covenant weapons. (Halo: CE Anniversary)
• Scarab – All player-held weapons fire Scarab Gun beams. (Halo 2: Anniversary)
And many more.
And about that Scarab Gun. Some of you remember how torturous it could be getting that banshee into just the right place so you could get to the infamous Scarab Gun. Well no longer, they just give it to you! Now I know some of you are saying "Well Halo 2 won't be so hard to get through on Legendary and get me that achievement now." Some skulls like Scarab will turn of achievements and scoring. They are meant to be fun and add some change to stale gameplay.
There is also a list of skulls that will need to be turned on for LASO achievements (Legendary, All Skulls On).
Ranking will be like the days of Halo 2. The better you are, the higher your rank. Initially it will only be displayed on Halo 2 playlist, Team Halo 2: Anniversary. This is while the fine tune the system for all Halo ranked playlists. As the tuning is fixed more games and playlist will be added.
There were also releases of the first 2 terminals in Halo 2: Anniversary. I am adding them as links so as to not spoil them for those who want to find and see them in game.
Video 1
.
Video 2
.
Halo Bulletin is moving to Halo Channel on your Xbox One and will be more interactive and feature interviews live. So make sure to check them out if you own one.
Lastly, tonight (Monday, November 10th, 2014) at 6PM PST (8PM CST) on
twitch.tv/xbox
they will be showing a first look at Halo 5: Guardians Beta. I will have more on this next week after I watch the fun.
Halo Channel is live on Xbox One and Windows 8.1. This is where you will go to find all things Halo. Interviews, Bulletins, Videos, Terminal Videos, Career path, and much more will all be found at the Halo Channel including the Halo series Nightfall. Make sure if you have either platform or both to check out the Halo Channel for yourself.
Well my friends there are loads of changes coming soon from Bungie including voice chat with randoms, if you want. Let's check out what we can look forward to in the coming week from Destiny.
This week in the bulletin DeeJ informed us in the process of changes. They listen to our suggestions (and complaints) the see what is plausible and what they want to work on first, they test there changes to make sure they fit the gameplay, and then we get to see this screen letting us know we were heard:
They are working hard on making a lot of changes we have been demanding and will let us know when they take effect what they have in store for us. Some things to expect in the near future:
• Channels for talking to matchmade teammates, if you want.
• Exotic weapons that are stronger and more interesting to upgrade.
• New gear to let you slip into something a little more Legendary.
• That which waits in The Dark Below.
• New shaders for your gear.
• Ways to preview items before you spend your Glimmer.
• New economies to equip you with upgrade materials.
• Some other tricks up their sleeve.
• Maybe even a more generous Cryparch.
As they release the updates they will let us know at bungie.net and I will keep you in the loop in updates as much as possible.
There was also some concept art
released
to showcase what is to be expected in the DLC soon to drop. Here are a couple.
Whether you are new or have been here since the beginning most of us have come to call Midland Base are home. We fight together, we raid together, we laugh together. The biggest reason this group is the way it is, is having members like you step up and help lead us. We still have lots of things to help out with and are looking for members to help. If you are interested in making sure we stay awesome here, look to the volunteer thread
here
. We look forward to you joining us in the Head Shed.
There are now several game nights in both Xbox One and 360 dedicated to Destiny but to participate you need to be apart of our clan.
It is super easy to join up and Dredd has all the steps laid out nice and easy for you here.
M
ake sure you join up so we can all enjoy Destiny together.
Looking to get your hands on some sweet loot like Raid Tier armor or Praedyth's Revenge? We are regularly having raid run-throughs. You can look on any forum and see the upcoming runs in global posts with the tag "Raiding" next to it. Be sure to sign up quickly cause spots go fast and it is a first come first serve in most cases.
We have one new member and one returning member. Please make sure to say hello to Angry Goph3r and welcome back PorkchpSandwich.
We have two new Emerging Leaders! They will have 30 days to prove they have what it takes and I am positive they will show us some true leadership muscle. Please make sure to congratulate and thank
AnimeManicFan
and
ChickenMnkyDuck
for the guts to lead. Welcome Anime and welcome back Duck, I know you will make us proud
Thursday Game Night hosted by Dredd1973:
Dredd1973, Ryderblind1199, Go Homer Die, I Gazmu I, Your_Unequal, and Major Stick.
Friday Game Night hosted by Ec1ip53:
Ec1ip53, Dredd1973, Silient Hit86, Chipk77, DrkMage 01, and Velarage.
Saturday Game Day hosted by Poetepoet:
Poetepoet, CovSmasher, and Ec1ip53.
Saturday Game Night hosted by Chipk77:
Chipk77, Poetepoet, Velarage, Dredd1973, Silient Hit86, and Your Unequal.
Sunday Game Day hosted by Lenfest:
Lenfest, DreyosDrum, Poetepoet, and Smeeoker.
Make sure you look to our events calendar over the next few weeks as there might be game changes with Halo: MCC coming out tomorrow.
Here it is, your moment of Zen...
Thank you for doing me for another Weekly Update. I will be back next week, so see you all then. Remember to hit up the
discussion page
and have a save holiday!
-TurboDew