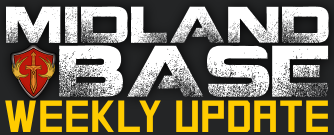 Midland Base Weekly Update June 8, 2015
Hey guys, another week gone and another week of news. So continue reading to find out what happened last week, today!
343i News
Hunt the Truth
The newest "Hunt the Truth" came out just yeterday. Episode 11 brings us up to 12 episodes total (don't forget episode 0!). I haven't listened to it yet, but I will have by the end of tonight. No spoilers please! Check it out at HUNT THE TRUTH audio files.
Halo 3: ODST
Last week, Halo 3: ODST dropped. If you're confused on where to look to play it (I was), simply go to the campaign section of the MCC and look under Halo 3. The campaign of Halo 3 is now broken into Halo 3 and ODST.
Interested in the Senior Game Designer of 343 and the Creative Director of ODST talking about the game? Here's a quick video of them talking while playing the game:
Bungie News
Everybody Fights
Every play a trials of Osiris match and realize (once you see your opponents) that you're severly outmatched? Well, play them anyways. In the past, backing out before the game starts would kill the people who backed out a loss. Now, it will give you a loss and a ban from re-entering the Trials of Osiris. How long of a ban, you ask? Who knows, it's Bungie and they didn't specify.
Nepal T-Shirts
The Nepal t-shirts have started shipping, and the shaders will be released sometime this summer. Complain about Bungie/Destiny all you want, but they raised over $1,000,000 for people in need, and that's admirable.
Update 1.2.0.1
Bungie really jumped feet first into this update, releasing it before actually telling us what was in it! To read the full patch notes, check here. Otherwise, I'll go over a few of the important details.
-Treasure Key drop rate is increased, but you can no longer open a chest more than once.
-One Treasure Key is guaranteed each week.
-Qodron (Vex boss from PoE) was nerfed.
-Fusion Rifles have been re-nerfed.
Midland Base News
Change of Leadership
This last week marks the final run of Dredd being the leader of Midland Base. He has handed the group over to Swiftfire.
Leaders Wanted
Come on guys, we need a lot of new leaders! If you've ever considered joining the leadership team, now is the time for it! You can volunteer to be a leader here and we'll use your help to continue to grow and become the best group of Halo/Destiny gamers ever! Feel free to ask questions without actually commiting.
Midland Base Clan - Destiny
You should all know this by now, but it bears repeating for our new members who found their way here. To participate in Midland Base events for Destiny, you need to be apart of our clan. It is super easy to join up and all the steps have been laid out nice and easy for you here. Make sure you join up so we can all enjoy Destiny together.
Raiding
Make sure to watch our forums to participate in officially lead Midland Base raids. All leaders at this point who are doing them have completed the Vault, and many are qualified to lead a Crota's End run.
Fresh Meat
Man, we're on a roll with new members! Our newest members are krisandsnorlax and Citadel99! Welcome to Midland Base guys! I hope you like it here!
Game Day/Night Attendance
Friday Game Night hosted by Ec1ip53:
Ec1ip53.
Saturday Game Day hosted by Poetepoet:
Poetepoet.
Saturday Game Night hosted by Chipk77:
Chipk77.
Sunday Game Night hosted by AnimeManicFan:
AnimeManicFan.
Here it is, your moment of Zen.
Here's to another week of gaming gone good! Linked forum thread is here.
-Ec1ip53