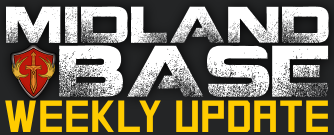 Midland Base Weekly Update April 20, 2015
Welcome to the Midland Base weekly update, where the news is made up the the small talk doesn't matter! Or maybe I should introduce a points system, so that doesn't matter instead?
343i News
Quick reminder, if you have any feedback for 343 regarding Halo 5, you can use this link to voice your opinion. Remember to be polite!
Hunt the Truth
I finally listened to the Hunt the Truth audio file one earlier this week. The voice acting on it isn't great, but it tells a great story and raises a lot of interesteing questions. Notably, the Master Chief's flash clone is possibly still alive... Check it out at HUNT THE TRUTH audio files.
Halo: Spartan Strike
The top scrolling Halo game, Spartan Strike, is now out on Windows 8, Windows Phone 8, Steam, iPhone, and iPad. If you're into that kinda thing, check it out.
MCC Updates
The MCC is getting prepared to launch a new update later this week. It includes penalties for quitting games early and betrayals, an updated ranking system, and the ability to forge more stuff in Halo 3.
Bungie News
Update 1.1.2 - New Info
Update 1.1.2 has finally launched, and with it comes a few things we didn't know about.
-A music player in the hunter's bar.
-The purple ball now changes colors.
Live Stream Events
Bungie is having a few live stream events to show off the House of Wolves gameplay. The first of which is this Wednesday, April 22nd, at 1:00 PM Central. You can watch on their twitch page www.twitch.tv/bungie
Midland Base News
Leaders Wanted
We have gotten a lot of help recently from our members in becoming leaders but there is still more to do. Basically, we need some leaders interested in making Halo gamenights. But if you're only interested in Destiny, don't let that stop you from joining up! You can volunteer to be a leader here and we'll use your help to continue to grow and become the best group of Halo/Destiny gamers ever!
Midland Base Clan - Destiny
You should all know this by now, but it bears repeating for our new members who found their way here. To participate in Midland Base events for Destiny, you need to be apart of our clan. It is super easy to join up and Dredd has all the steps laid out nice and easy for you here. Make sure you join up so we can all enjoy Destiny together.
Raiding
Make sure to watch our forums to participate in officially lead Midland Base raids. All leaders at this point who are doing them have completed the Vault, and many are qualified to lead a Crota's End run. Make sure to sign up early to secure your spot and riches!
Fresh Meat
No new members this week.
Game Day/Night Attendance
Friday Game Night hosted by Ec1ip53: CANCELLED BY XBOX LIVE OUTAGE
Ec1ip53.
Saturday Game Day hosted by Poetepoet:
Poetepoet, smeeeoker, and AnimeManicFan,.
Saturday Game Night hosted by Chipk77:
Chipk77, Dredd1973, Silient Hit86, smeeeoker, Ninjaketsu, GatlinMcArthur, and Wetz689.
Sunday Game Night hosted by AnimeManicFan:
AnimeManicFan, and smeeeoker.
Here it is, your moment of Zen.
Until next time. Discuss here.
-Ec1ip53